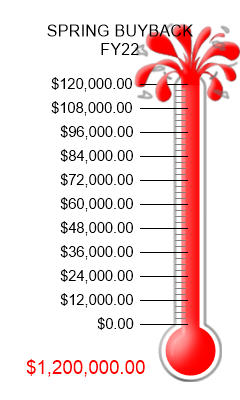 5/10/22 UPDATE UPDATE – This is truly AMAZING!! With just about a week to go, YOU reclaimed TWO days from the four day Spring Drive! The drive will begin on Thursday 5/19 at 6am and end promptly at 9pm on Friday 5/20.   We are so very grateful to each and every one of you who made this super short drive a reality!
5/4/22 UPDATE – WOW! we're well on our way to knocking off a second day from the Spring pledge drive! This also means our total goal for the days we are pledging will be lower. This is FANTASTIC!!
We're doing it again… we're putting a fundraiser on the line. We have planned to pitch for 4 days in May. We are asking those of you who can, to shorten this pledge drive. For every $60k we raise before 5/13, we will chop a day off the drive. 
WBJC is committed to bringing you the music you love, the music you need, and the music you support. If you want more Beethoven, Brahms and Berlioz, click any of the blue DONATE buttons around the site and make your secure pledge to shorten the drive. Do it right now!