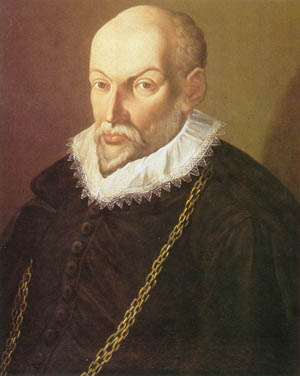 Revisiting a great work of art years after one's first acquaintance with it is like revisiting an old friend. The passage of time changes people but not art, so our reacquaintance with a work beloved in our past tells us as much about ourselves as it does about the art object. Of course, the nature of a masterpiece is that it reveals new meanings on subsequent exposures. I find myself rediscovering Beethoven's Fifth Symphony every few years, or Dvorak's Symphony No. 9 "From the New World".
I was recently asked to fill in for Kati Harrison on her Sunday morning show on WBJC. One of the joys of doing Sunday morning (once I am fully awake) is the 8AM choral hour, where our station plays choral masterworks. Knowing I would have just one shot, I wanted to make my choice very special to myself and my listeners.
I decided on choral music of the Renaissance, and the first composer to come to mind was an old favorite, Roland de Lassus, also know as Orlando di Lasso. (In my younger days, I preferred di Lasso, since it sounded like a Renaissance cowboy swinging his lasso. These days I favor Lassus, a  most melifluous name.) I had not heard his music in many years, so I surveyed the WBJC library, spot listening to our Lassus discography (and occasionally flirting with some other luminaries) before settling on the Lassus Lamentations of Jeremiah, a work composed in 1585, just nine years before the composer's death at the age of 62. At seventy-four minutes, it filled the entire hour once I dropped two of the nine movements.
I first got into Lassus in college in the early 1970's, when my choral conductor John Klaus was a big enthusiast for a capella Renaissance choral music. (I speak of this experience further in my earlier blog Discovering Classical Music.) My first Lassus recording (okay, they called him Orlando di Lasso), was the Requiem, as performed by Bruno Turner and Pro Cantione Antiqua. One of my best friends, Larry Kliegerman, was a big fan of Renaissance music, and we scoured the Renaissance record collection at Sam Goody's store every time we visited New York City. A bit of a Renaissance boom was in progress in both Europe and America. Renaissance ensembles were popping up in many American cities. I myself was priviliged to witness the birth of the Baltimore Consort, originally known as the Renaissance Ensemble of Baltimore, when I first moved to Baltimore in the late 1970's. Soon my record collection was bursting with dozens, eventually hundreds of Renaissance recordings: Dunstable, Dufay, Binchois, Ockeghem, Willaert, Obrecht, Tallis, Gesualdo, Victoria, Palestrina, Byrd, and my all time favorite, Josquin des Pres. But amidst all these treasures, I recall having a special love and the highest regard for the music of Lassus. Thinking back on this a couple of weeks ago, I was curious why, since it had been so long since I had listened to his music.
The night I decided on playing Lamentations of Jeremiah on the Sunday choral hour, I took the recording home and played all seventy-four minutes for my wife. Dyane was so smitten that she told me to take it upstairs and play it while we were sleeping. After thirteen years, I recently figured out how to set the perpetual replay button on my sturdy Philips boom box, so Dyane and I listened to Lassus all night long. She has not wanted to hear anything else for the last two weeks. I've borrowed our other library recordings of Lassus for variety, along with a smattering of Victoria and Palestrina. (One might think that all Renaissance choral music sounds alike, especially from the same era, but it's simply not the case.)
This afternoon, I spent the better part of an hour in our media room moving a heavy box of video tapes that has been blocking access to the "L" section of my alphabetized LP shelves for over a decade. This involved moving several stacks of CD's and DVD's sitting on a couple of neat rows of video tapes lined up on top of the box. These tapes also had to be moved. It also involved navigating around an extension cord looped around the box. And the box had to be lifted carefully, since it is wedged between the shelf itself, another box of video tapes to the left, with several loose CD's stashed in between, a row of LP's to the right, and three long rows of video tapes double stacked in the front. These rows of tapes have several stacks of CD's and tape cassettes stacked on top of them. This is not to mention the wind up metal duck with a propeller on its hat, and a large cardboard session sheet from the Beach Boys Smile sessions box set. This in turn covers a…well, you get the idea.
The result was, I unearthed my ten LP Lassus collection from the 1970's, and now am in the process of tranferring them to CD so my wife and I can listen to them while we sleep.
This started out to be a reverential meditation on the art of Lassus and has degenerated into comedy, but I am told that from his letters Lassus had a sense of humor, even cracking an occasional joke, so I suspect he would approve.
Movement from Lamentations of Jeremiah:  http://youtu.be/TH8kaVdMT6o
Tags:
choral music
,
discovering
,
Lassus
,
Renaissance music